Concrete Cleaning To Properly Maintain Your Fort Wayne Sidewalks & Driveways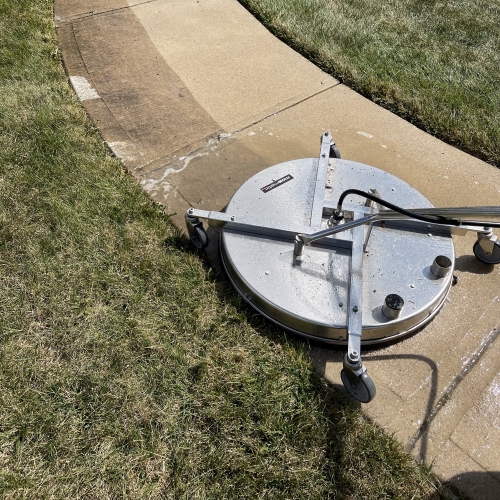 Are you looking for the best concrete cleaning team in Fort Wayne? Well, you've come to the right place! When it comes to pressure washing for Fort Wayne, no one does it better than the pros at Bin Wild Inc.
We understand that your home is made of all kinds of concrete surfaces, from walkways to patios to pavers and more, and we've got the know-how to treat them all with the care that they deserve. Concrete can be pretty tough, but just like all your other exterior materials, it can get dirty over time. As more and more grime accumulates, its pores get packed with dirt and other harmful contaminants. Since concrete is so tough, it can be very difficult to clean with something as simple as a sponge and hot water. You need something stronger, and you need the proper methods to tackle it. Our pros use only industry-grade pressure washing tools for our concrete cleaning jobs. The high-pressure water penetrates the surfaces of your concrete and gets deep into the pores, drawing out all of the dirt and grime and clearing them away. After a few concrete cleaning sessions, you'll be blown away at how the surfaces around your property have transformed.
Driveway Washing To Blast Away Dirt & Debris
Fort Wayne homeowners always call on Bin Wild Inc for their concrete cleaning needs! We use the best standard industry techniques to ensure accuracy and precision, meaning that your concrete will never become damaged in the cleaning process. You'll love the way your concrete looks when we're done with it. You might even think it was just newly poured!
We handle jobs of any size and offer other cleaning options such as roof cleaning and house washing. If you need concrete cleaning services to restore the beauty of your home in Fort Wayne, then schedule a pressure washing appointment with the Bin Wild Inc crew today!
Sidewalk Cleaning For Safer Walking Paths
Nothing puts a damper on your home's curb appeal quite like concrete surfaces that are covered in cracks or stains. Fortunately, the pros at Bin Wild Inc offer premier concrete cleaning services to prevent this unfortunate circumstance and keep your concrete in excellent shape. Concrete cleaning is essential to preventing these problems from destroying your concrete exteriors and helping to extend their lifespan. Our cleaning solutions remove any stains and organic growths without causing damage to your surfaces. If you're interested in a concrete cleaning service for your Fort Wayne home, give us a call!
FOR EXPERT FORT WAYNE PRESSURE WASHING & TRASH CAN CLEANING SERVICES CALL Bin Wild Inc NOW!