Fence & Deck Cleaning To Help Maintain Fort Wayne Homes & Businesses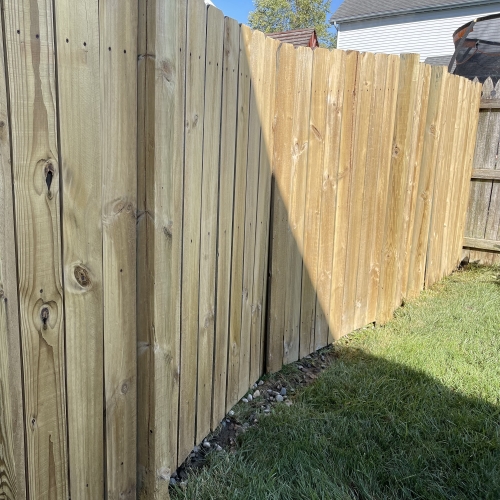 A deck that is built well can last for decades if it is kept clean and well-maintained. At Bin Wild Inc, our Fort Wayne pressure washing team offers professional deck cleaning services that will make maintaining your deck easier than ever! No matter what your deck is made of, from wood, composite, to vinyl, our deck cleaning experts will restore its beauty and make sure it stays that way. We're the best when it comes to pressure washing for Fort Wayne, and that's because we've got the skills to remove any kinds of algae, lichen, moss, or whatever grime or gunk is growing on your exterior surfaces. It's never too late to get started on your deck cleaning maintenance, so give us a call and let's get started today!
Fence Washing Extends The Lifespan Of Your Property's Fencing
We're not just deck cleaning experts, we're also fence washing pros, too! At Bin Wild Inc, we only use soft washing methods for your Fort Wayne fence because we'll never risk damaging your fence's surface, no matter what it's made of. Our soft wash cleaning solutions are made of eco-friendly cleansers and can remove years of stains. Combined with low-pressure cleaning, our soft washing solutions will remove the dirt and grime from your fence and prevent it from growing back for some time. You'll enjoy longer periods between fence and deck cleaning services and a longer-lasting structure on your Fort Wayne property.
Keep Your Deck Looking Great With Deck Cleaning
Your outdoor decking faces constant exposure to the natural elements, making it look dull and worn. By hiring a professional pressure washing company to perform a deck cleaning service, you're not only making your decking material look great, but you're making sure that harmful growths don't have a chance to return. Deck cleaning effectively kills off mold and mildew so that they can't cause wood rot or impact your family's health. It also clears away any built-up weather debris, dirt, and grime that's left over after a storm or harsh season.
Our deck cleaning services will protect your Fort Wayne deck from the elements and have it look as good as the day it was installed! Contact the pros at Bin Wild Inc today to get a free estimate and be sure to ask about some of our other exterior cleaning services, like house washing, to extend the restoration efforts to all areas of your home.
FOR EXPERT FORT WAYNE PRESSURE WASHING & TRASH CAN CLEANING SERVICES CALL Bin Wild Inc NOW!